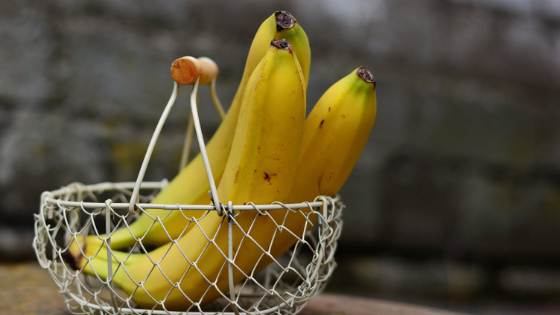 Do you find yourself regularly tossing bananas into the trash because they're just too overripe for your taste? Then it's time to stop. Those bananas are perfect to include in a number of tasty treats, including the following:
Chocolate Chip Banana Bread
You will need:
3 ripe medium-sized bananas
1/3 cup melted butter
1 teaspoon baking soda
Pinch of salt
1 teaspoon vanilla extract
1/2 cup sugar
1 large beaten egg
1 1/2 cups all-purpose flour
1/2 cup mini chocolate chips
Preheat your oven to 350 degrees F.
Mash bananas in a bowl.
Add melted butter and stir well.
Add sugar, egg, vanilla, baking soda, salt and flour. Stir until mixture is smooth.
Mix in the chocolate chips.
Pour the batter into a greased loaf pan and bake for approximately 45 minutes to an hour.
Banana and Strawberry Smoothie
If you would prefer something a little healthier and lighter, try this recipe.
You will need:
2 cups ice
1 1/2 cups cleaned, hulled and halved strawberries
15.3-ounce container of nonfat vanilla Greek yogurt
1/2 overripe banana
2 tablespoons honey
1 teaspoon vanilla
Combine all of the ingredients in a blender.
Blend until smooth and serve.
Easy Banana Pancakes
Do you love pancakes? Then you'll love these!
You will need:
2 large eggs
2 ripe medium bananas
1 teaspoon vanilla extract
1/2 cup quick-cooking oats
1 teaspoon cinnamon
Banana slices (optional)
In a bowl, mash bananas until smooth.
Add eggs and vanilla, then mix until combined well.
Stir in oats and cinnamon.
Heat a skillet over medium heat.
Add approximately a quarter cup of batter into the pan and smooth down to form a pancake.
Cook for approximately two to three minutes.
Flip the pancake and cook for approximately two more minutes or until golden brown.
Remove from pan and serve. (If you desire, you can garnish your pancakes with more banana slices first.)
Have you been searching for a new home with a beautiful kitchen to make these tasty banana treats? Then check out our apartments in Dallas, TX. Our gourmet kitchens boast granite countertops and convenient islands. We also have a 24-hour fitness center where you can work off some of those extra calories.