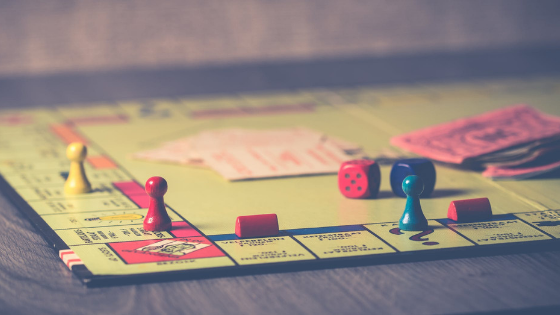 As with all things in Texas, rooms run big at the Mocking Bird, and so you're bound to have plenty of space to entertain friends and family and enjoy a social evening after a long week of work. Additionally, one of the great amenities at our Dallas, TX apartments is an expansive game room complete with pool and shuffleboard tables and large gaming tables to gather friends around. But what game to play? Consider the following outstanding social games that are perfect for groups big and small:
3 Fun Board Games to Try at Your Next Spring Gathering
Nyctophobia. This unique game is a cooperative experience in which up to four players must work together to rescue each other by finding the right tools and avoiding the hunter. What makes this game special is that players wear blackout glasses, so they cannot see the board and must instead rely on touch and communication.
Dark Moon. This is a good game for those players who like team participation and thwarting each other. In this game, up to seven players are secretly separated into two groups of the infected and the uninfected. The uninfected are trying to escape a moon by completing objectives and repairing parts of the ship while the infected secretly try and sabotage the entire mission. This game is great as everyone gets involved in every player's turn, resulting in minimal downtime and maximum player engagement.
Codenames. Codenames is a great game for big groups and, in fact, has no limit to the maximum number of players (although you will want to start with at least four). Here, again, players are separated into two teams with one person on each team acting as the code master. Using a set of twenty-five words, the code master will try and get his or her team to get the right designated words for their team using one word. It's a great game based on word recognition and an easy one to pick up and start playing.
Have Questions About the Game Room? Don't Hesitate to Ask
The game room at Mockingbird Flats is open for use to all residents and comes stocked with a working pool table and shuffleboard. Should you have any issues with components or other questions, don't hesitate to contact our staff for help.