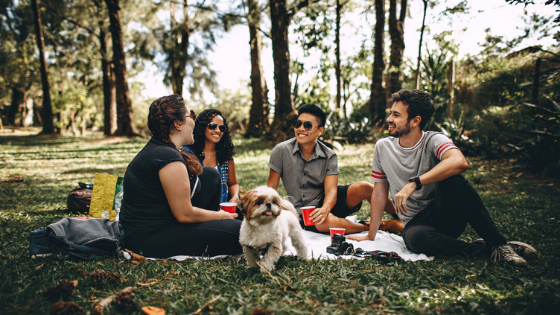 It's the time of year when the residents of our Dallas, TX apartments start to explore the green spaces around the neighborhood, taking with them well-packed picnic baskets and fun things that keep them entertained all day. If you're itching to get the picnic season going, here are some essentials you should be sure to bring along:
1. Easy Eats
Sandwiches are the obvious go-to picnic classic because they can be made ahead and they travel well. Avoid anything that's made with mayonnaise, as it can go bad pretty quickly in the Texas heat. You don't have to settle for standard peanut butter and jelly, though. Get creative with the stuff you put between your slices of bread! Pasta salad is another item that's easy to toss into a container and take with you. Don't forget the utensils if you have any food that'll need a fork or spoon!
2. Clean-Up Supplies
No matter how finger-friendly your food is, someone's bound to get a little messy. A roll of paper towels is easier to keep track of than a stack of napkins if the wind kicks up. It's also a good idea to keep baby wipes on hand in case some of your food leaves a sticky residue behind.
3. Refreshing Beverages
Check the policies of the park before you head out to make sure alcohol is allowed. Many public places also don't allow glass bottles. If that's the case, opt for cans of beer or paper cartons of wine.
4. Condiments
If you're in the habit of keeping all those travel-sized condiment packets when you eat out, this is a great time to put them to use. Miniature ketchups and mustards are compact and can quickly be tossed into a bag as you're heading out the door.
5. Fun Lawn Games
Cornhole is a fan favorite that's great for people of all ages. You can buy cornhole boards online, or, if you're crafty with woodwork, you can make your own. Kickball and disc golf are simple games to set up, too. Use your picnic blanket, cooler, and other items you have on hand to create the bases or targets.
Don't let summer slip by without access to a pool, sundeck, and 24-hour fitness facility! Apply to Mockingbird Flats today so you can enjoy all the amenities our Dallas apartments have to offer!