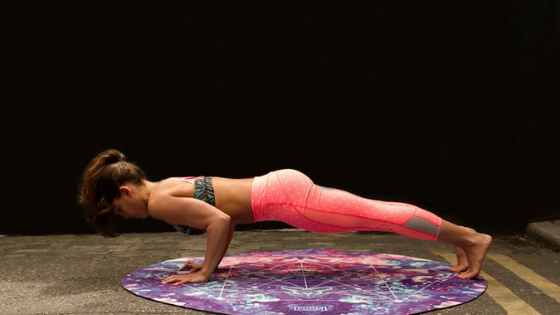 With the hustle and bustle of everyday life, finding the time to work out can be hard. However, there are some simple workouts you can do inside your own home or apartment. See below for a few workouts to try for yourself:
Push-Ups
Push-ups have been around forever, but they are still very effective and you can do them just about anywhere. However, it's important to focus on doing push-ups correctly. To do this, lie flat on the ground on your stomach, then place your palms on the ground next to your chest. While keeping your back straight, push up with your hands until your arms are fully extended. Try to do three sets of 10 to 12 reps. If it becomes difficult, start on your knees instead of your feet.
Crunch
The crunch is a classic yet very beneficial exercise for your abs. However, many people do these exercises incorrectly and hurt their back. Start by sitting on the floor and lie back with your knees bent. Make sure your feet are 12 to 18 inches from your tailbone. Place your hands behind your head while squeezing your shoulder blades together. Next, pull your elbows back without arching your back. As you lean up, flex your chin toward your chest and slowly curl your torso toward your thighs. Focus on pulling your ribcage towards your pelvis. Be sure to always keep your feet, tailbone, and lower back on the ground. Try to do five sets of 10 to 12 reps.
Forward Lunge
The forward lunge is a great exercise for your abs, legs, and hips. Start by standing straight up with your feet together, and focus on keeping your back straight. Before you step forward, lift one leg and hold it there for a moment to stabilize it. Slowly move forward and place your heel on the ground first. Transfer your weight to the leading foot and place it firmly on the floor. Try to keep your back straight and avoid any tilting as you lean forward. Slowly move back into the starting position. Do this 10 to 12 times for five sets.
Front Plank
For the front plank, start by lying on your belly with your elbows, wrists, and palms touching the floor. Make sure your elbows are directly under your shoulders. Extend your legs out straight and push up your body until your back is as flat as possible. Avoid arching your back or bending your knees, and hold this position for 10 to 30 seconds. Rest and repeat four to five times.
By following these three workouts, you can stay in shape from the comfort of your own home or apartment. Looking for apartments in Dallas that have the workout space you need? The call Mockingbird Flats today to schedule a showing!