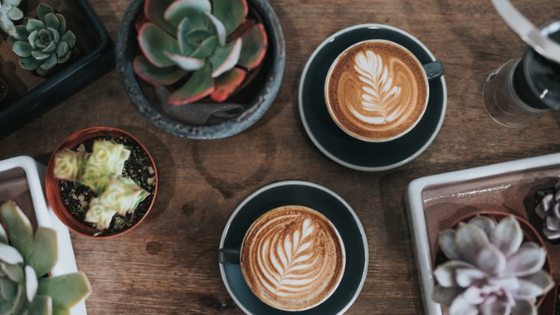 A lot of people who live in our apartments are students or professionals who work from home. Sometimes, they need a change of scenery, and when they do, they head to some of the awesome coffee shops around our neighborhood. If you're looking for free WiFi and a few places where you can get some work done, we've got some great suggestions!
1. Herb's Coffee House + Company
Whether you're meeting with your crew or doing solo work, Herb's Coffee House + Company has spaces to accommodate your needs. This spot boasts of several meeting rooms and even provides visitors with a printer. Besides great coffee, Herb's also touts a nice menu of food to curb those cravings so you don't have to stop working when the hunger pangs start knocking at your belly. There are lots of tables and plenty of outlets, meaning you can power through your workday completely uninterrupted.
2. Merit Coffee
If you like quaint, smaller coffee shops, Merit Coffee might be your perfect place. Although there aren't a ton of outlets, the coffee and ambiance make up for the lack of power. Make sure you're fully charged when you get here, and you'll be able to enjoy several hours of productive work or study. Be sure to check out the patio tables so you can watch passersby
3. La La Land Kind Cafe
Are you the type of person who works better in busy, bustling places? If so, La La Land Kind Cafe will be right up your alley. Not everybody can focus in the silence of a library, so for people who need a little more livelihood around them, this place checks the boxes. It's particularly known for its fancy toasts. If you're a fan of fresh fruit, the honey strawberry toast will make your toes curl.
4. Mudsmith
Thanks to a variety of seating options and plenty of outlets, Mudsmith is the type of place you can spend hours without needing to relocate midway through your day. It has a cozy lodge-like feel and offers friendly baristas, great coffee, delicious food, and beer on tap when you need a break.
Are you ready to live in an apartment that's close to all the action? Mockingbird Flats is ready to welcome you as our newest resident. Submit your application online today!