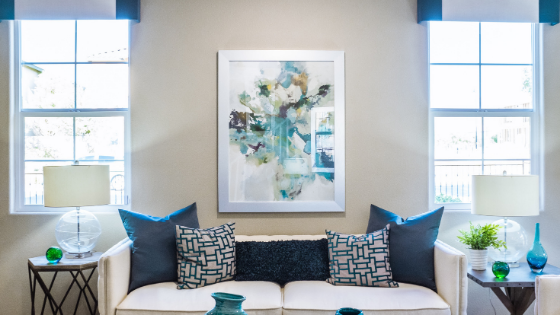 Clothing styles change with the seasons — and so does home decor. This fall, blues are big. To incorporate some cool tones into your apartment design, consider these tips.
Nail Down Your Color Palette
In fashion, blue has become the dressy, new "it" color. Every shade of blue excels this season for home decor, but dark tones are taking center stage.
Before you purchase any new items or significantly change the look of your apartment, consider the shades of blue you want to use, along with complementary colors. Dark blue tends to work well with a variety of hues, including teal, red, soft yellow, greens, and grays.
Once you make some decisions on your foundational colors, you can begin selecting the perfect items to add splashes to your home.
Add Touches of Blue for Lounging
In your living room, consider using throws or plush pillows to add touches of blue and complementary shades. The right pillows can introduce excitement to any room, but challenges may arise as you cull through the vast number of selections available in home decorating stores.
Using your chosen color palette, consider this formula for selecting the perfect pillows: a solid, a complex print and a simple print. In addition, think about grouping pillows symmetrically, with larger pillows generally at the outer ends of a sofa and smaller pillows in the middle.
Add Bath and Kitchen Accents
Shades of blue — including darker hues — also have gained popularity in kitchens and baths. What are some quick and easy ways to add indigo and other varieties of blue?
The right throw rug can bring together your favorite blue with complementary colors, and new dinnerware also can add attractive pops of color. Shiny, painted furniture such as a bureau or rolling cart also can imbue your space with a dash of color as well as adding storage capacity.
Looking for apartments in Dallas, TX? Choose a location and layout that offers you the perfect canvas for your decorating touches. For information about our floor plans, availability and more, please contact us today at Mockingbird Flats.